Exhibitions at Institute of Mosaic Art. Gallery shows of IMA professional and student mosaic work.
Exhibitions Gallery
Institute of Mosaic Art featured rotating mosaic exhibitions of professional and student work in our on-site gallery. Below are images showcasing mosaic artwork from several of our past exhibitions.
Kelley Knickerbocker Divide And Contour: The Living Edge
I jump at the chance to work in series.
Every choice of material and placement of tesserae suggests a dozen other possibilities, and a series allows me to explore some of them, to see where an idea/composition/design/palette can go; what it's capable of saying; what it can teach me.
This series was born from an exploration of the interplay between iridescent clear glass and matte rings made of cattle horn. As I set the glass-filled rings in a loose line that separated the surface into two planes, I was struck by the complex relationship of the line to the two planes; it was the instrument of irrevocable division, but at the same time one of sensuous definition and emphasis, a calling forth of shape from the void. The line was where the lift of the work was; where 'becoming' happened.
So in this series, the line is the agent of 'becoming' across the surface of multiple substrates: separating, connecting, bridging, defining, continuing. Much as the active line of the present moment defines our existence, dividing past from future, establishing the shape of who we've been and who we're becoming.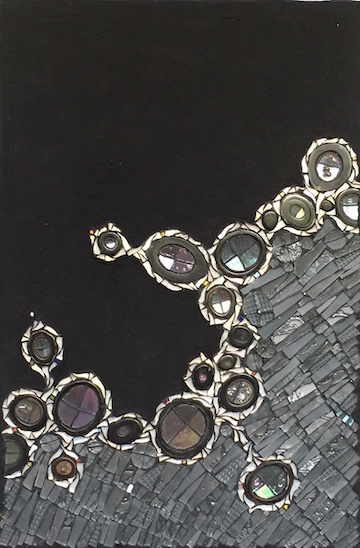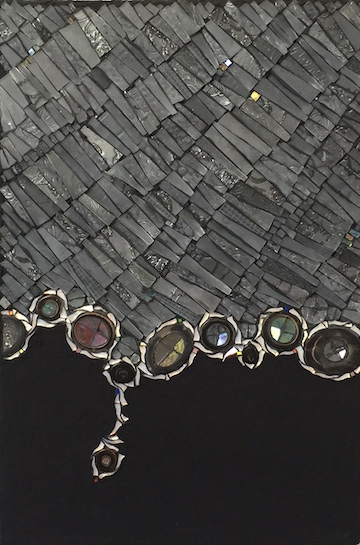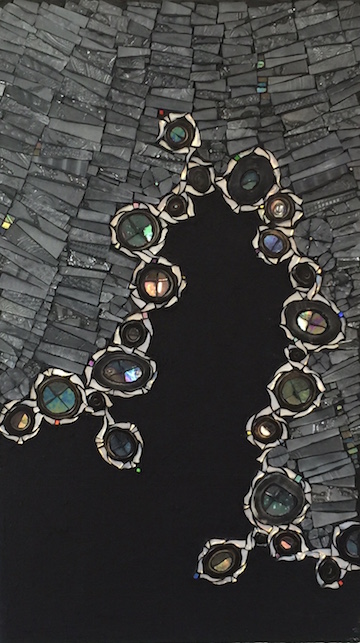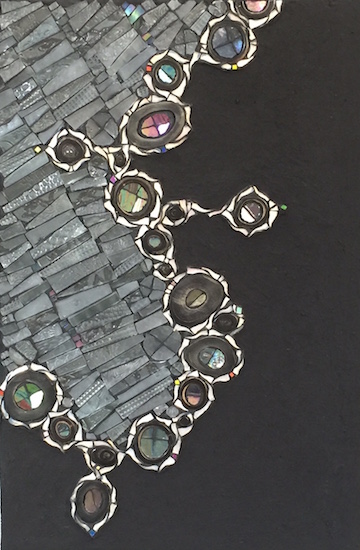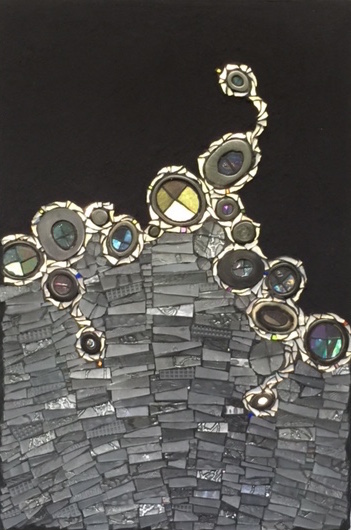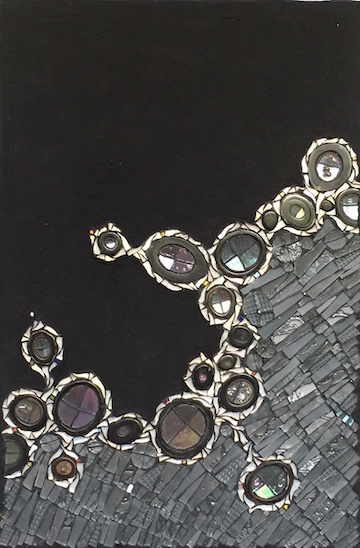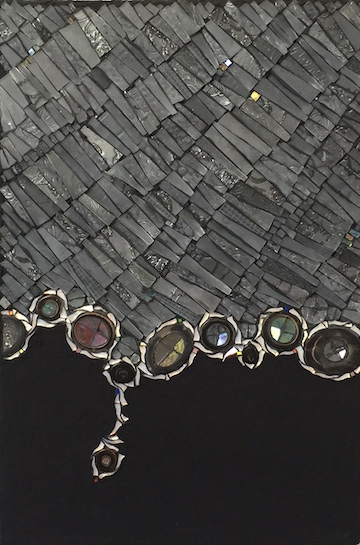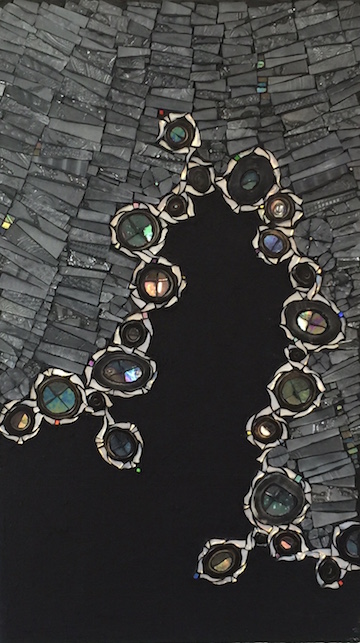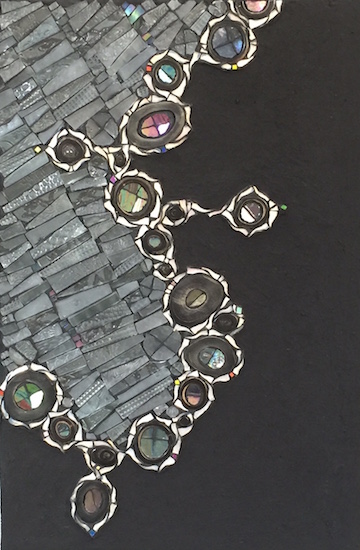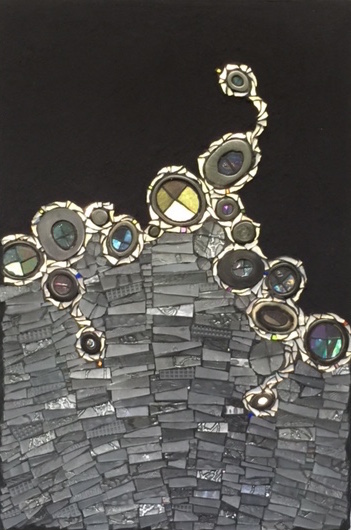 Laura Rendlen: Imagined and Re-Imagined . . .
Starting a mosaic is like the proverbial chicken and the egg. For me, sometimes it is the vision I imagine other times it is the materials speaking to me. When I want to create a setting, a special moment of place and time, I gather all the materials that describe that sense of place I have in mind. As the combinations begin the mosaic takes on a life of its own.
And then there are the moments when a great "find", a strand of beads, a beautiful color of glass or the perfect stone or rock is all the inspiration I need because it takes my mind on journeys to different places with their own colors and textures, highlights and shadows and sense of time. And then it begins…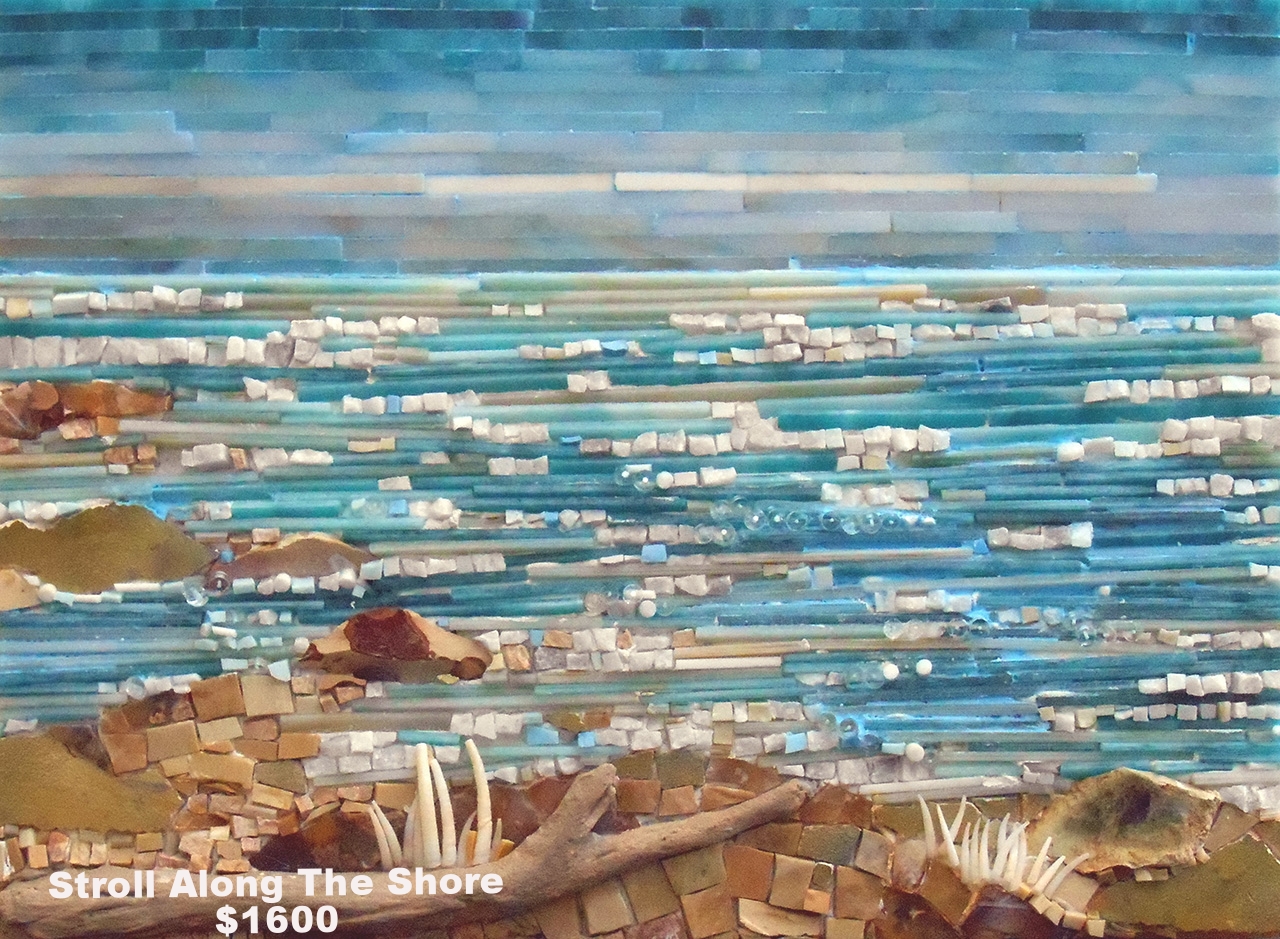 Water, Water, Everywhere . . .
November 14 - January 15, 2016
This curated show offers the interpretations of 22 mosaic artists on the theme of water, from its multiple forms - snow, ice, rain, rivers, puddles, lakes, and seas - to the life that depends on it, to its magical visual properties. Happily, the subject also enables a demonstration of the infinite varieties of style in mosaic art.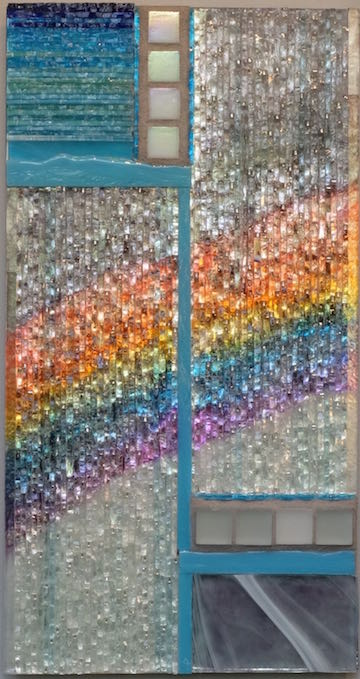 Scott Fitzwater: Sketches in Slate
September 19 - November 8, 2015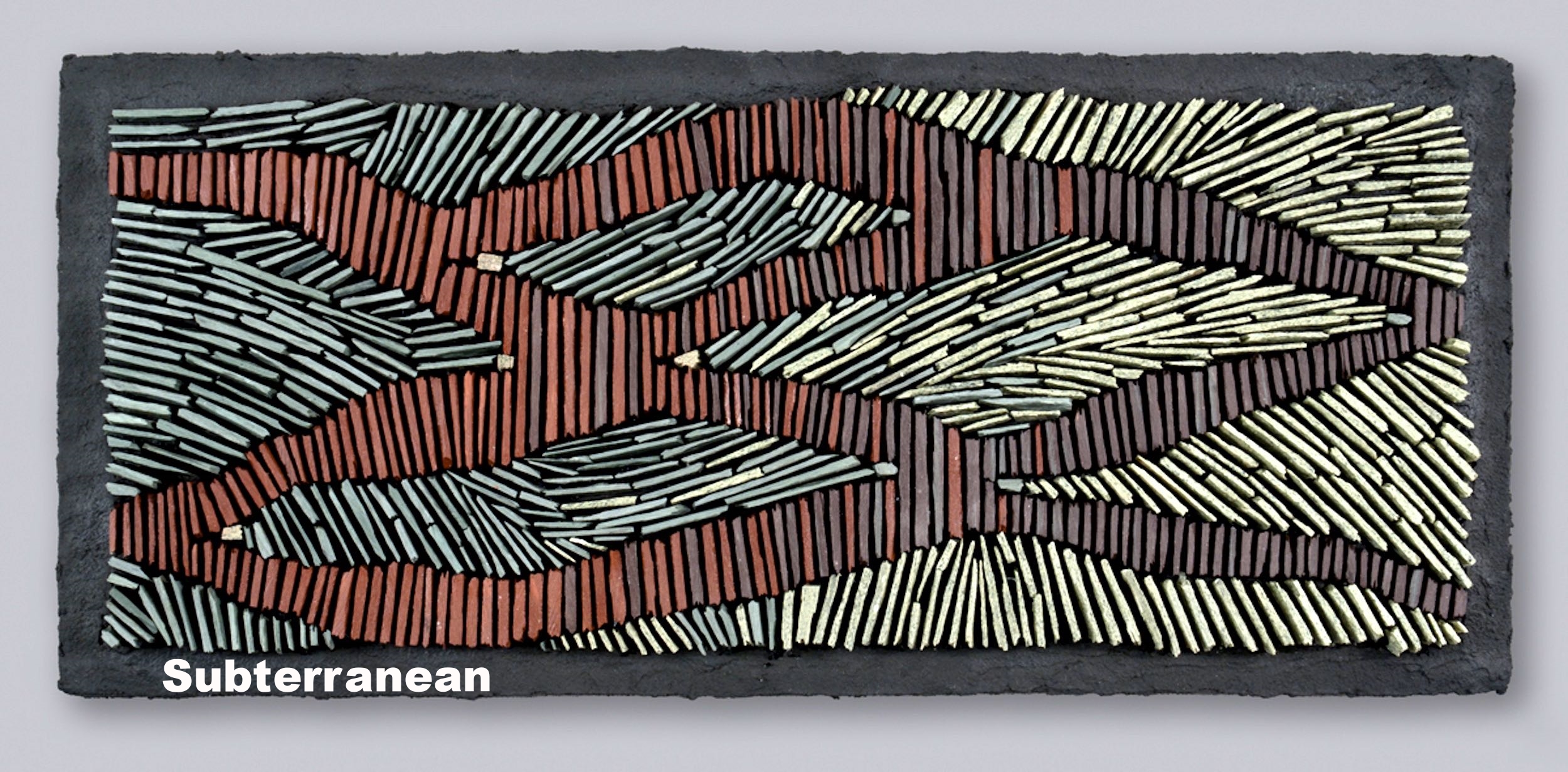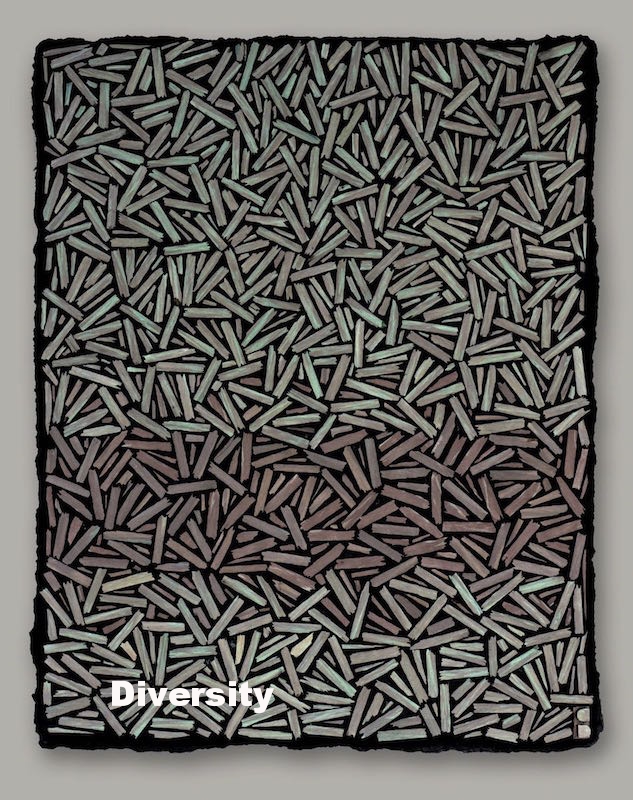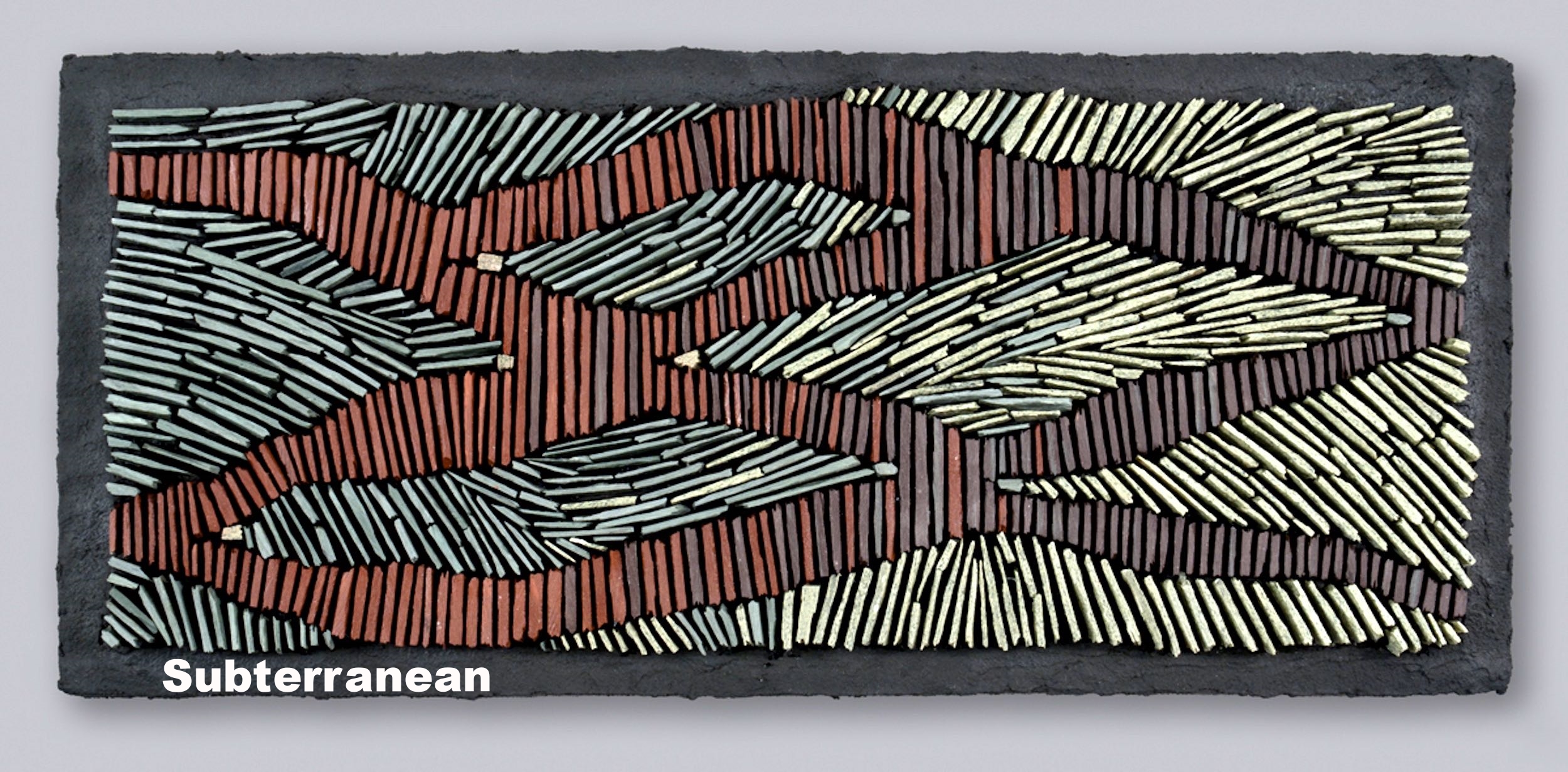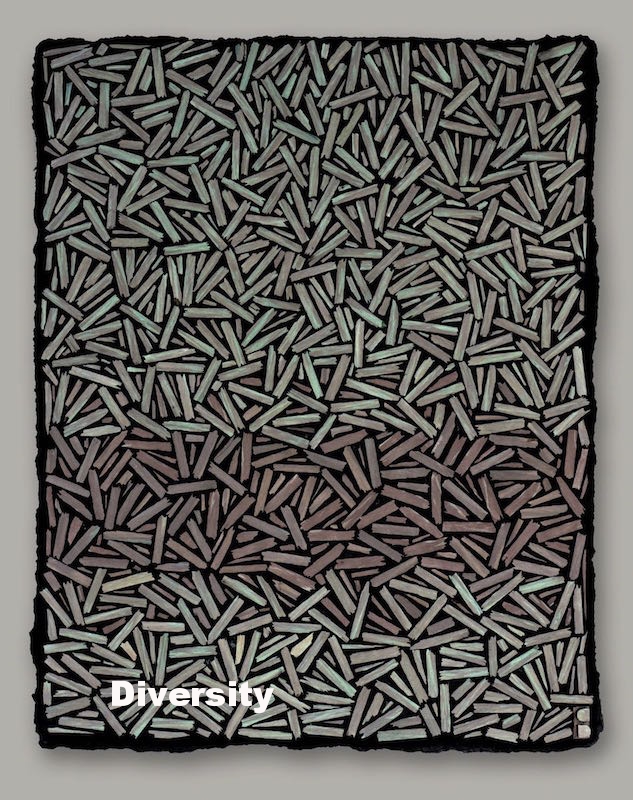 From Scott Fitzwater: I started seriously creating mosaics in 2008 when I retired from a career as a software engineer. I'm largely a self-taught mosaic artist but have experimented with many techniques and materials. Currently, I'm working almost exclusively with slate which I source from salvaged roofing tiles. I create thin, fin-like pieces (tesserae) of slate, combine them into a cohesive flow and blend the limited colors to shepherd the viewer through each mosaic.
This material and technique speaks to me. I'm, in fact, drawing lines as I lay down the fins of slate, and it feels like I'm sketching with the thin tesserae. This has lead to a more spontaneous, improvisational approach to my work. I thrive on organic, abstract, geometric designs. When I work, I somehow plug into my subconscious which frequently leads to surprises of unknown origins. I often can't explain from where my designs emanate.
When thinking about and creating a new piece, I need an impetus to direct my efforts, to answer the "why" of the piece. I want to deliver a message that is meaningful and in line with my beliefs. For me, the human impact on earth is most relevant and important. I choose to make pieces that speak to the effect that humans are exacting on our little, rocky planet and the life on it. Gaze upon the work, consider the title, study the description of the piece and you will grok my message.
Studio 9: Eight Artists Plus One Great Space
July 17 - September 12, 2015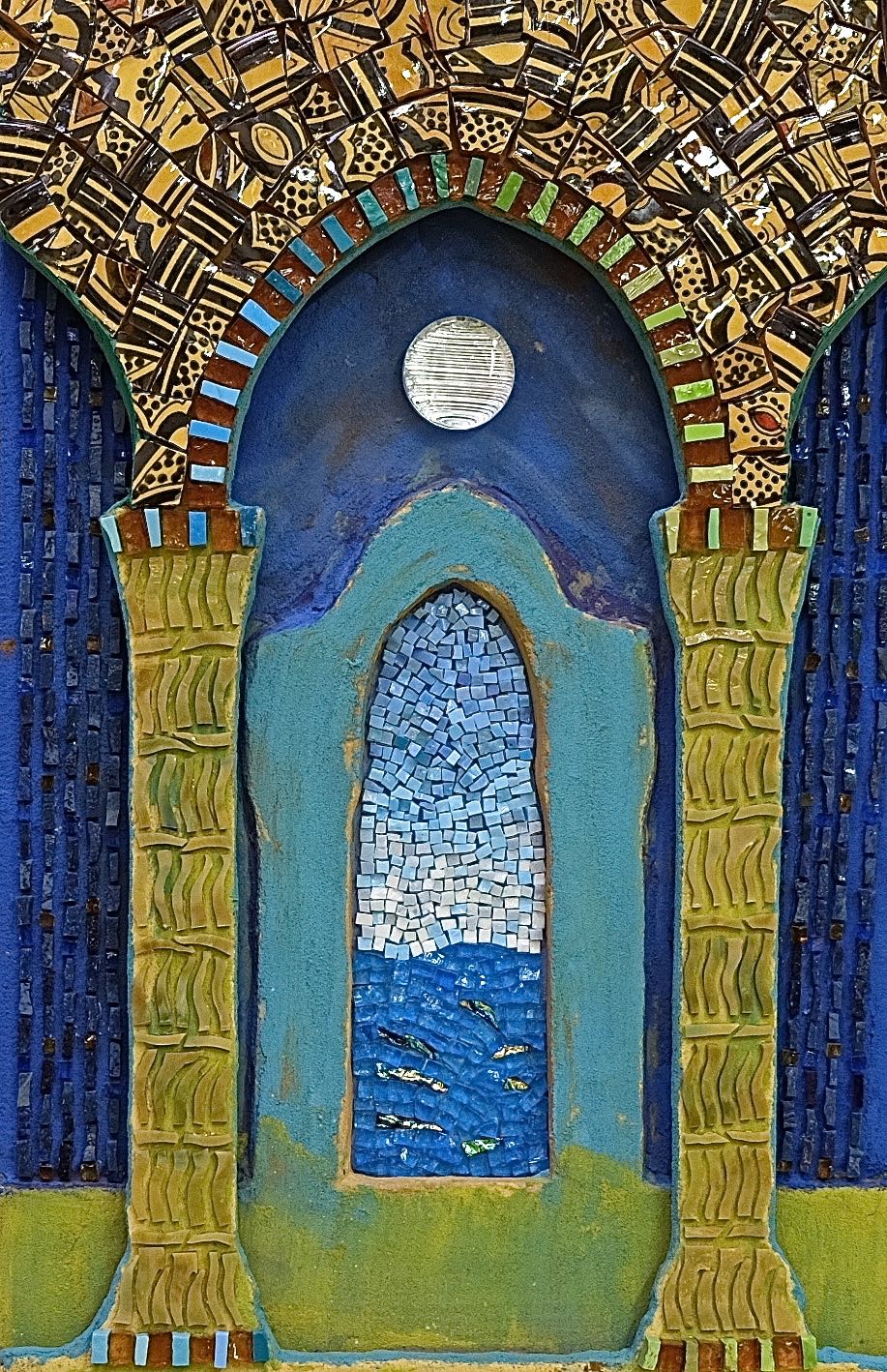 Studio 9 is a warehouse space in Oakland shared by eight mosaic artists: Debbie Callen, Randi Casenza, Carol Compton, Elizabeth Grindon, Glynnis Kaye, Marthe Murray, Jane Pyle, and Jill Stevenson-Ritter. We were all students of the Institute of Mosaic Art, and attendees of the Wednesday evening and Friday morning mosaic labs, where we cultivated friendships and a love of working in community with other artists. A happy synchronicity of space availability and desire to share a studio resulted in the creation of Studio 9—now a continual quilting bee in tile and glass.
Bloom!
May 15 - July 12, 2015
Our Call For Artists yielded 20 unique and beautiful interpretations of the subject "Bloom"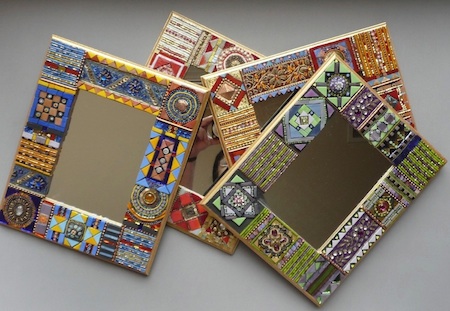 Journey - Mosaics by Vaishali Sanghavi
March 19 - May 8, 2015
For more information about Vaishali Sanghavi and a full gallery of works, click here to visit her website.
Explorations of the Grid - Mosaics by Cynthia Fisher
January 23 - March 15, 2015
Cynthia Fisher created this
delightful and delicate series of mosaics with vitreous glass, stained glass, unglazed porcelain, broken pottery and contorno. To learn more about Cynthia Fisher, visit her website Big Bang Mosaics.
Cynthia Fisher will be teaching a class on "Indirect Methods" at IMA on May 2-3, 2015. Click here for class information.
Winter Wonderland
November 15, 2014 - Mid-January, 2015
Our annual Winter Wonderland exhibit where everything shines white and texture and sparkle rule! All mosaic artists were asked to create pieces using white, clear or off-white materials in over 90% of their piece.
Tributes - Glass Mosaics by Jill Stevenson Ritter
August 1 - September 21, 2014
Seeing Color

February 22 - March 23, 2014
IMA: Past, Present, Future Exhibition

July 21 - September 15, 2013
Freedom to Create Exhibition, 2012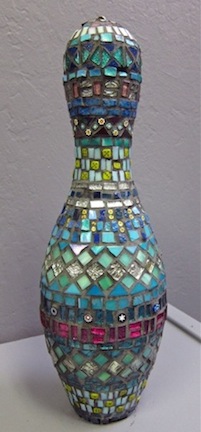 Wilma Wyss Solo Exhibition, 2012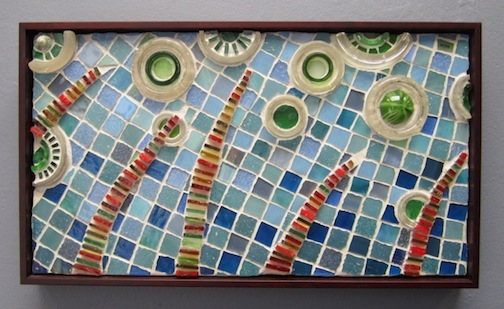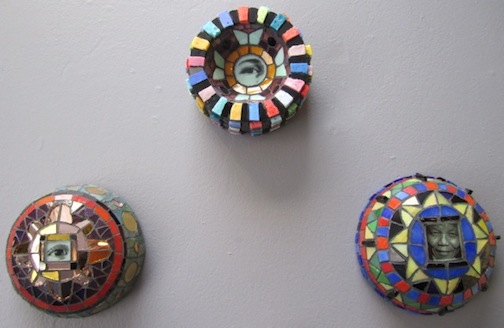 Haiti Benefit Exhibition, 2011

Proceeds from all sales benefited earthquake relief in Haiti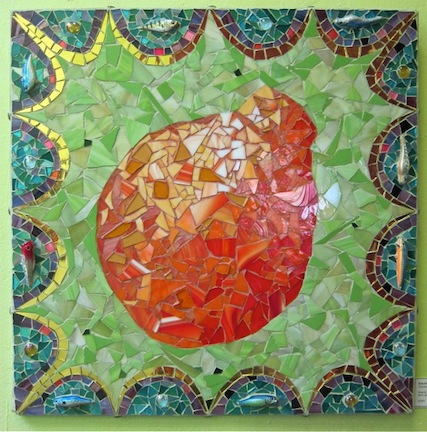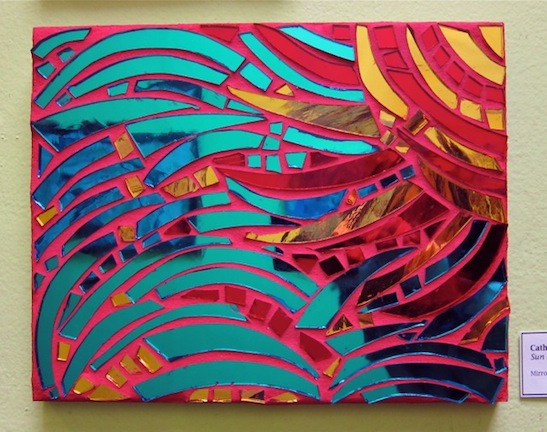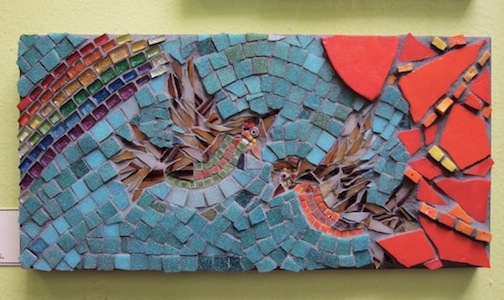 IMA Exhibitions throughout the years

Masthead: Detail of Chakra #2 by Erin Rogers